Here's my latest skin:
A basic mixer is now included along with mix now options. This skin is now 1366x768. Enjoy!
Screenshot: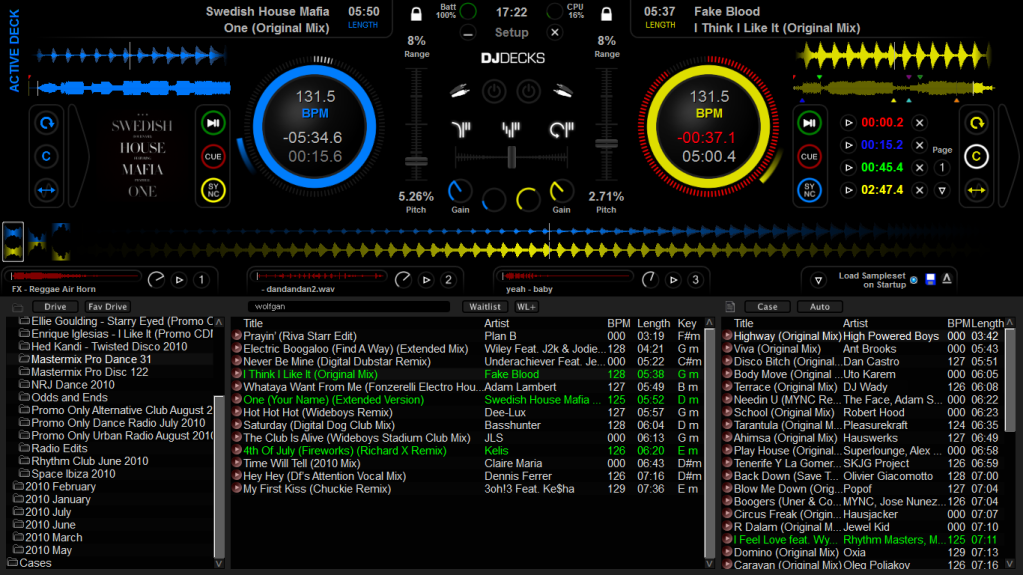 Getting started
Drag and drop as normal anywhere onto either player. Use the waveforms buttons (to the left of the big waveforms display) to show the waveforms in different formats. If you use the latest version of djDecks, you can right click the 'match' button to snap to beat as well as match the BPM.
Loops, Cues, and Beat Step panels
The three buttons located opposite play/cue/sync on each player are for 'Loops', 'Cuepoints' and 'Beat Step' panels. The 'Loop' section is fairly self explanatory. For the 'Cues' section, click on a cue point to set a new point or play a current one. The 'X' will delete the relevant cue point. You can scroll through 2 pages of cue points using the arrows to the right of the bank. For the 'Beat Step' section, clicking on a button will advance or recede the number of beats shown on the button, relative to which arrow that button is underneath.
Note: if you click on any of the 'Loops'/'Cues'/'Beat Step' functions while using 'Absolute' vinyl control, djDecks will switch to relative control automatically
Sampler
Drag and drop files onto the desired sample slot to load them in. There are a total of 6 sample slots which can be accessed by using the arrrow button. The sample volume knob sets the volume level for every channel, so if you have more than one channel open you will need to adjust the volume accordingly. You can play the sample from the start by clicking on the sample number to the right of the sample and also, pause/play the sample using the play button.
Time Code Control Panel
On/Off buttons for each deck are located towards the centre of the panel. I think most of the other buttons are fairly clear. The circular VU meters are for time code signal quality. Click on the TCV type display (below the on/off button) to switch between 'Absolute'/Relative' modes. Line in can be activated by clicking the RCA plug for each deck
Have a play around with things on the skin and see how you get on. Some buttons have left and right click functions so get clicking!!
As always, I'd love some feedback.
Enjoy,
tintin
This skin is my property. I'm sharing it here for your personal use and it may not be sold/distributed without my prior permission.